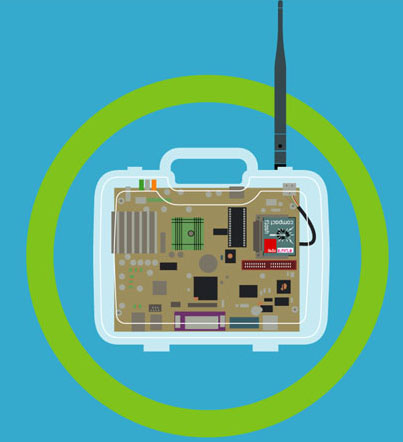 RICHAIR2030 at Futuresonic04, Lucid, Printworks, Manchester
with Ilze Black, Alexei Blinov, Shu Lea Cheang, Chia-liang Kao and Paul Khera
soundscape by supermodem [sneha solanki & kate rich]

The mobile generation is grounded. The tribal gathering around freenetwork nodes is the only game in town, bringing together the signal-seeking Desparati. The feeble wireless signal strength and network pingtime relay tranmitted from the roaming roller girls carrying lunchboxes are captured live and rendered into sound notes. Derived from these basic incoming bytes, supermodemÍs two sound artists collaborate on stage, on rollers, on mixers to beat up the signals that synchronizes with their logical-dynamic local wireless network environment.

Supermodem orchestrates a communications signal sonic zoo by further incorporating archive of communications signals - species traditional, extinct, fictional and prescient - radio+mobile+GPS+modem+wireless filed, flattened and transformed into dance beats. The artefact signals of the receding century preserved and performed as a nostagia tribute, a golden-oldies archive of beeps, dialtones, pings, bandwidth reports and network sound effects.

Djing on wheels, supermodem mic up their rollerskates and contribute their own communications data to the soundscape. Not to be left out, the signal searching party mood Desparati audience are also invited to receive and make their last mobile calls which are uphoned to the sound system, their incoming and outgoing signals crushed and recycled into the mix.