Taipei Biennale
11/04/2006-2/25/2007


Chinese
Porta-pack development workshops during the Porta2030 at the Taipei Biennial Nov 4, 2006 – Feb 25, 2007

view movies here:
http://video.google.co.uk/videoplay?docid=7959992063757235484&q=porta2030
http://video.google.co.uk/videoplay?docid=-4585221846768764365&q=porta2030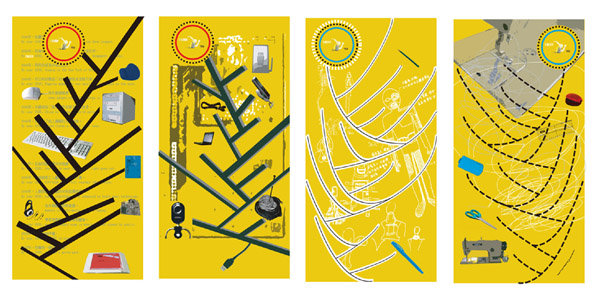 PORTA2030 performative urgency network exercise: SEARCHING FOR #6 art work.
Place:
Taipei Fine Art Museum
Date:
February 24, 2007
Characters:
Security guard x5: Actors wear porta-pack
Suspects: audiences in the museum
Story:
Security guards receive the message that one of the artwork #6 have lost, they start searching for the suspects in the museum and asking help from audiences.
Security guards ask audiences whether they have seen artwork #6 in the museum?and use webcam to take photos of audiences(face), then decide the suspicious degree of the audiences. Using sky phone to type the suspicious degree and send the information to the screen of the porta-pack.
The screen of the porta-pack shows the photo of suspect and the suspicious degree (with bee sound). After checking this, give one piece of colour print and ask the audience to find artwork #6.
Audiences take the colour piece and paste it on the large black and white print (next to porta2030) like picture puzzle.
Through the functions of porta-pack, with help of audiences, the complete colour print of porta2030 appears as found artwork #6.