Taipei Biennale
11/04/2006-2/25/2007



Chinese



porta2030 documents/work in progress


LIBERATE YOUR WIFI BANDWIDTH
YOU ARE THE NET. YOU ARE PORTA-PORTER

TAKE2030, a London-based new media society presents PORTA2030 at the Taipei Biennale 2006. Under the theme "Dirty Yoga" of TB2006, PORTA2030 conveys its dirty desire for self-sustainable, self-operating, open and free network to be owned by each and every member of the public by year 2030. PORTA2030 proposes an interactive project with Taipei's open source society, fashion designers and the general public. In an "After the Net crash" scenario, we imagine that by the year 2030, our mobiles will be locked, our network blocked and our roaming barred. The DIY porta-pack which contains a modified wifi network system, a webcam, a communicative device would be the much sought after networked tool by year 2030.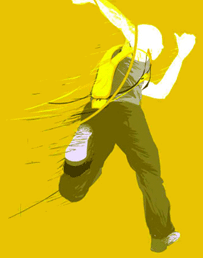 CONCEPT


PORTA PACK


PERFORMANCE


DIRTY YOGA


CREDITS



HOME

By year 2030, Kazakhstan is Central-Asian Snow Leopard.

By year 2030, Anambra is Africa's Taiwan, Singapore or Dubai.

By year 2030, Arabia is the New York of Middle East.

By year 2030, Nigeria makes its own satellite and lands on the moon.

By year 2030, Taiwan adopts renewable energy economy.

By year 2030, China is the major world emitter of C02.

By year 2030, Japan claims a manned lunar base.
By year 2030, most Jews live in Israel.

By year 2030, Jamaica is a developed country.
By year 2030, the oil is used up and the light goes out.
By year 2030, HIV/AIDS death toll reaches 180 million.
By year 2030, human intelligence is enhanced by brain nano technology.
By year 2030, memory is multi-media instant replay.
By year 2030, every standard room is monitored and viewed by public.
By year 2030, the NET is crashed.
By year 2030, you own a porta-pack.